How to Calculate Interest Rate on a Car Loan

You already know that when you apply for a loan in Eugene, you're going to be charged interest. That said, you might be wondering how your interest rate impacts your monthly payments and your total amount owed in the long run. Explore this and more with Clint Newell Chevrolet as we discuss how to calculate interest rate on a car loan, below.
---
What Is an Interest Rate?
When you're learning how to figure interest on a car loan, a good place to get started is to explore exactly what interest is, as well as the factors that can impact it. If you're purchasing a vehicle on credit, your lender owns the vehicle until it's paid off. The interest rate you pay is essentially a fee paid to your lender in return for borrowing their money to obtain your vehicle. The interest rate you pay is based on numerous factors, including:
Principal Amount: This is the dollar amount you're seeking to borrow from a lender.
Loan Term: Your loan term is the total length of time you'll be repaying your loan. Short-term loans tend to have higher payments but less interest paid overall, while long-term loans tend to have lower payments but come with a higher interest rate.
Repayment Schedule: Most Cottage Grove drivers make monthly payments on their auto loan, but if you're able to make more frequent payments, it could save you a good amount of money in the long run. Thanks to compounding, more payments equals less interest paid.
Repayment Amount: Each auto loan payment you make puts a portion toward interest and a portion toward repaying your principal.
---
How to Calculate Auto Loan Interest for First Payment
When you want to know how to calculate auto loan interest for your first payment, use this simple equation:
Divide your interest rate by the number of monthly payments you will be making in this year.
Multiply it by the balance of your loan – for your initial payment, this will be your whole principal amount.
The answer you get is the amount of interest you can expect to pay during the first month of your loan.
How to Figure Interest on a Car Loan Moving Forward
As you make your payments each month, your balance will, of course, steadily decrease. This means you'll want to recalculate your new balance each month to work out the interest you'll pay as you move ahead. Here's how:
Subtract the interest you just calculated from the payment you just made. This will leave you with the amount that you have paid off the loan principal.
Deduct this total from your original principal to get your new loan balance.
Human error and the need to round your total up or down mean you won't get an on-target calculation every time, but you can consider this as a good foundation for how to calculate the interest rate on a car loan.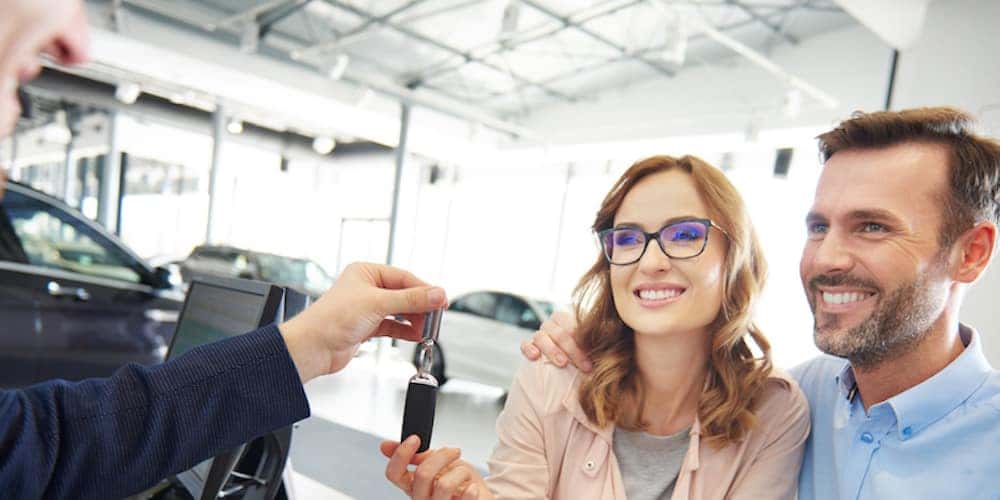 ---
Get Additional Help at Clint Newell Chevrolet
Feeling a little overwhelmed? We don't blame you! If you have additional questions about how to calculate interest rate on a car, or how to improve your credit score, we encourage you to contact us anytime during business hours. If you plan to finance your car through our dealership near Sutherlin, you can get pre-qualified online.
---
Explore Our Models
For many Eugene drivers, there is no more trusted range of SUVs for their touring and commutes than the new Buick range, and for good reason. While the 2019 Buick Envision marked a significant upgrade to the already high standard that Buick entrusts in their engineers and designers, the new 2020 Buick Envision interior again…

Drivers from Eugene to Cottage Grove are considering the new 2020 GMC Yukon for their next hard-working family SUV. With an impressive maximum towing capacity of up to 8,500 pounds, you can confidently haul all you need from Roseburg to Sutherlin with your entire family comfortably in tow. Read on to discover more about the GMC…

The 2020 Chevrolet Traverse is out on Roseburg area streets, and industry experts simply can't get enough of this capable three-row SUV! Find out what they have to say about its luxurious interior, exclusive features, and more before you get behind the wheel of a new2020 Chevy Traverse at Clint Newell Chevrolet when you check out the…